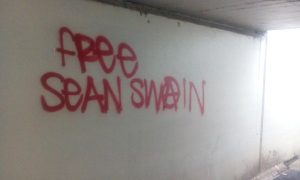 This past Wednesday, the Ohio Parole Board denied parole to Sean Swain on the basis of lies and political targeting perpetuated by Trevor Matthew Clark, former ODRC Counsel. Read Sean's account of what happened and his call for support below.
On August 25, I had my 4th parole hearing.
In 1991, I was convicted of Aggravated Murder in what was a provable case of self defense. The judge sentenced me to 20 years to life, the minimum allowable by law, and said I would be expected to serve 12 years before being paroled. I have now served 30. I was told on Wednesday that I will be expected to serve 5 more.
In their decision, the parole board relied upon their own wildly inaccurate characterizations of my political speech, which they construed as "threats." They also relied upon contrived misconduct engineered by former ODRC Counsel Trevor Clark, who, in 2013, subjected me to inappropriate sexual touching, and, during an interrogation, revealed to me the home addresses of Ohio lawmakers. I reported both the sexual touching and the violation of lawmakers' personal privacy, and Clark responded with a years-long campaign of state terror, to include suspension of my communications for years at a time and theft of my incoming legal mail.
In 2018, I filed 2 civil actions (18 CV 004272) that named Trevor Clark. Weeks later, in retaliation, he ordered a minion of his to fabricate the misconduct that the parole board now relies upon to extend my imprisonment for 5 years.
Lauren and I are fortunate to have retained attorney Eric J. Allen, who has successfully litigated against the parole board more than once. He promises to aggressively fight to right this injustice, but we need to raise some loot to pay the cost of the litigation.
SwainiacFest 2021, to raise funds for counsel, is in the planning stages… save the date September 23 in Toledo, OH.
Donations can be made via CashApp to $Swainiac1969.
Sample letters and parole board members' emails are provided below for anyone who wishes to email the parole board on my behalf.
To: DRC.ParoleBoardOfficeConference@odrc.state.oh.us
Subject: Concerns about 8/25/21 Parole Board decision on Sean Swain (A243205)

Hi, 
I am contacting you in concern for the decision that the Parole Board made for Sean Swain, A243205, following his fourth parole hearing on August 25, 2021. Mr. Swain has already served 30 years of a 20-to-life sentence for a provable act of self defense. During his recent hearing, however, you decided that Mr. Swain must serve five more years.

I am writing to you because the information through which Parole Board members reached this decision was inaccurate. During his time at Warren Correctional Institution, Mr. Swain endured mistreatment including sexual harassment, mail theft, and inhumane living conditions at the direction of former ODRC Counsel Trevor Clark. It was Mr. Clark's erroneous characterization of Mr. Swain's political speech that led Mr. Clark to commit actions against Mr. Swain that were both wrongfully discriminatory as well as illegal. In 2018, Mr. Swain filed two civil actions that named Mr. Clark. Weeks later, in retaliation, Mr. Clark ordered one of his employees to fabricate incidents of misconduct by Mr. Swain. These reports of misconduct have since been overturned - yet these false accusations ordered by Mr. Clark informed your decision to keep Mr. Swain incarcerated for five more years.

Mr. Swain's attorney is currently working on filing for reconsideration of your decision. As a public servant entrusted with making responsible parole decisions, I urge you to investigate the falsehoods that informed your decision and reconsider Mr. Swain's eligibility for parole.

Thank you.