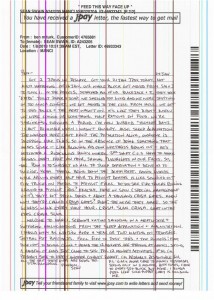 We received this JPay from Sean today, it was written on the 24th.  It appears as though the Army of the 12 Monkeys is still active at Mansfield Correctional. A "handful of guys" just got transferred to the hole,  accused of being members of the Army of the 12 Monkeys. 
We also heard rumors that at least one of these prisoners is being tortured in a "suicide cell" just like Sean was initially. The guy's name is Shawn Marshall. His number is 461-448.  Word is Marshall went to this torture cell on Tuesday Jan 15th. He doesn't have friends or family on the outside, so there's no one to stop them from keeping him in torture cell for a long time.
Sean has not had his final security reveiw or been transferred yet. ManCI staff are depriving Sean and others accused of 12 Monkeys activity of food and sleep.  Read the JPay for details.
Please call ManCI at 419-526-2000 demand that they stop torturing Shawn Marshall (461-448) and that they adequately feed prisoners in seg and allow them to sleep.
Please call Director Gary Mohr at Central Office, 614-752-1150, demand that ManCI staff be sanctioned until this treatment changes.