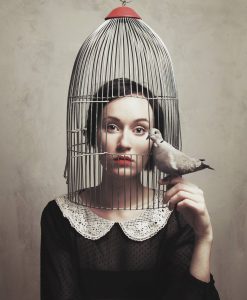 Aired July, 2017 on The Final Straw.
Matthew Salser is an oil-war-era army combat veteran. He's been diagnosed with some pretty serious psychological disorders. In fact, a decent argument could be made that Salser ended up in prison as an indirect result ofnhis mental health struggles and his inability to function.
So, Salser entered the custody of the Ohio Department of Retribution and Corruption with a mental health file as thick as a phone book with multiple shrinks having all drawn the same conclusions, independent of one another. These shrinks had, additionally, prescribed Salser medications they all say he needs in order to function.
So when he got to prison, the prison shrinks deferred to the professionals who trated Salser for years and years and continued his medications, right? Well, no. The prison shrinks dismissed all of the prior diagnoses and took Salser off of all of his meds.
It would appear that the intent of this was to save money, as Salser's medications are expensive. Salser has protested the discontinuation of his meds and has filed every administrative remedy available, all rubber-stamped refused.
Keep in mind that Salser is an Army vet and he has a history of violence when not medicated. So, after delivering him to an environment particularly stressful and violent, the State has deprived a mentally-ill veteran of the meds he needs and desperately wants in order to avoid slipping into a cycle of stress, rage, and violence.
It would seem that their agenda is not to "reform" Salser or to assist him, but that their agenda is to provoke him to rage and violence.
With no other option, Salser has filed a claim of negligence in the Ohio Court of Claims, alleging that it is medical neglect to ignore his diagnoses and to deprive him of necessary meds that prvent his rage and violence. The case is kind of a no-brainer, right? You would expect that once this was filed before Magistrate Gary Peterson, that phone calls would be made and the appropriate butts would be chewed and Salser would be back on his meds, right? Well, no.
Instead, what has happened is that the case was assigned to Assistant Ohio Attorney General Jeanna V. Jacobus– the same assistant attorney general working furiously to swindle Matthw Pearson out of his knee replacement. It seems Jeanna V. Jacobus specializes in sticking it to veterans in the Ohio prison system.
When Jacobus got the case, she didn't say, "Hey, this is a veteran with diagnosed mental illnesses who needs his meds so he doesn't rage out. Maybe I should advise my client, the Ohio prison system, to give this guy whathe needs." Nope. Instead, Jacobus filed a flurry of motions and pleadings, attempting to overwhelm a desperate prisoner she already knew to be mentally-ill.
Assistant Attorney General Jeanna V. Jacobus would rather do whatever it takes to scratch up a win in the win column, making the litigation process impossible for Salser to navigate.
In case the thousands of disgruntled combat vets who defended Native American land rights from the DAPL pipeline didn't get Jacobus' contact info in a previous segment, Assistant Ohio Attorney General Jeanna V. Jacobus can be reached by phone at (614) 387-4256, or by fax at (614) 644-9185. Her email is jeanna.jacobus@ohioattorneygeneral.gov. the more calls and faxes and emails demanding that Jacobus settle Salser's case and give Salser the meds he needs increases his chances of success.
Consider, this is all happening in a state where Governor John Kasich has repeatedly and consistently talked about the moal imperative to treat the mentally ill and to reform corrections and to provide drug treatment and heal people. It would appear everyone beyond his office door failed to get the memo.
From apractical standpoint, you have to wonder what Magistrate Gary Peterson or Assistant Attorney General Jeanna V. Jacobus expect as an end result of this process. The longer Salser goes without meds, the longer he suffers and rages, the greater the chances he will hurt someone else or himself– a situation that court officials are seemingly fostering on purpose.
And keep in mind that Salser will get out someday, and fairly soon. What do they expect him to do?
I don't know, but I don't think I would want to be responsible for refusing meds to a raging combat veteran getting out of prison with no hope and a reasonable nd understandable desire for rude vindication against those who made him suffer.
This is Anarchist Prisoner Sean Swain from Warren Corruptional in Lebanon, Ohio. If you're listening, you ARE the resistance…
* * *