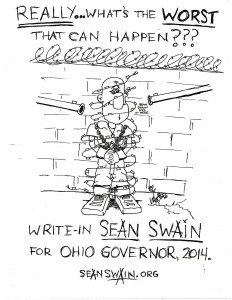 Media Release
Anarchist prisoner Sean Swain Runs for Governor
as a Write- in Candidate from Ohio's SuperMax Facility,
Invites a Million Carpetbaggers to Hijack Election
Sean estimates that he received approximately (8) eight votes in 2010, the last time he ran for governor from prison. Back then, Sean Swain had a hard time convincing voters they should "abolish" the state of Ohio, electing Swain with an anarchist mandate to forcibly disassemble the State once and for all. But Swain says a lot has changed since 2010 and he believes a sizable groundswell is coming around to his way of thinking– that the government, and the corporations whose interests the government serves, are the real enemies to be resisted and eliminated.
Swain points to the Occupy Movement, which was pre-figured in his 2007 work Last Act of the Circus Animals, and it's violent disbandment by the government's agents of control as proof that many are imagining "a different future." Swain believes he has the plan for getting there. If elected Ohio governor Swain promises to:
* Decommission the Ohio National Guard
* Empty Ohio's prisons and turn them into squats
* Recognize Native American land rights as set forth by the Treaty of Greenville
* Arm the tribes with national guard weaponry, to include tanks and attack helicopters,
* Refuse to sign any budget causing the government to shut down, and
* Sign an Executive Order making it legal to assassinate him if he remains in office longer than 90 days.