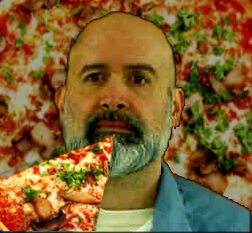 This originally aired on The Final Straw. Who also did some interviews with Sean in this week's episode. 
(Sigh.) I could really use a pizza right now. I'm on a hungerstrike. You know, those useless, stupid, reformist actions that never result in anything good? Right. You can go back to segments on Reformism to figure out just what kind of hypocrite I am.
My last meal was Superbowl Sunday, and it kinda sucked.

Anyway, here's what happened:

My good friend Ben Turk scheduled 2 hours of video visits with me. It works like Skype and it's a feature that JPay offers for twenty bucks an hour. To arrange it, Ben has to be on my visiting list and JPay email list– which he is. I see prisoners on my security level having these video visits routinely and nobody has ever had one cancelled by the Ohio Department of Retribution and Corruption… Until now.

Yep. We got the plug pulled on us. Ben is allowed to see me here in the visiting room, face to face, over and over, where there are thousands of safety and security concerns involved, but he can't see me over a computer where there are ZERO security and safety concerns.

Does that make any rational sense?

Not to get too far out in front of the facts here, but we suspect the Ohio Department of Retribution and Corruption is afraid we would upload video from the visit, and that our speech in a public forum will be unflattering.

If it wasn't gonna be, it certainly will be now.

We expect they will attempt to say Ben is "media."

Courts have permitted prisons to limit or refuse media visits IN the prison environment. The reason is, media IN THE INSTITUTION can be disruptive to the operation of the facility, requiring special accommodations and creating a drain on staff and resources. But with VIDEO visits, none of those rationales apply. There's no disruption, no special accommodation, no drain on staff or resources. A video visit is a video visit– whether scheduled by Barbara Walters or Joe Snowbucket.
Besides, Ben doesn't qualify as media. Just like me, he's never held down a respectable job in his life. So, if prison fascists try to stretch the definition of media because Ben posts my material online, that still doesn't hold water. Hundreds of video visitors whose visits were allowed have Facebook pages and they PUBLISH their postings online. They weren't forced to delete their Facebook pages to be approved for video visits and Ben is no more media than they are.
In fact, I'M more media than he is. I'm part of a radio show. There's a website and a Facebook page with my name on them. If the prison fascists use this kind of expansive definition of "media," then every prisoner who carries on a conversation with me is having an "unauthorized media visit." They're gonna have to segregate me on the roof.
If they invoke "media" as a justification, what they are admitting is that they're treating an anarchist prisoner and visitor differently than others in order to prevent anticipated speech they WON'T LIKE. Their intent is to censor content they expect Ben to post. In other words, they are again engaged in ideological repression, which is why my attorney Richard Kerger is ALREADY SUING THEM.
So, I hope you understand why I got mad and declared this stupid hungerstrike and now I'm stuck doing it. These fascists have harassed me at every turn– when I wrote a book; when seanswain.org went online; when I exposed JPay; when I got invited onto the Final Straw; when they realized Richard Kerger was suing them and they stole 16 of my emails to him; and now this.
Video could be useful to counsel and to educate the public about my criminal case and its illegality, about reasons for my civil action, and about anarchism generally, which I deeply believe to be the only hope for the future of humankind and the planet. But every time I attempt to impact the world in a healthy and constructive way, these chicken-little, know-nothing, state-worshiping thought-Nazis with their narrow-minded, flat-earth bigotry and arrogance, pull the plug on me… Contrary to their own laws.
Ben's been told that Investigator Paul Schumacher at ODRC Gestapo Headquarters pulled the plug on our video visits for "investigation." Paulie SuperGenius, with his detective bag and two-billed "Sherlock" hat, is investigating videos HE DIDN'T ALLOW TO HAPPEN. Sherlock Paulie SuperGenius has been rewinding white noise searching for clues for 5 days and counting… Investigating our effort to be perfectly law-abiding, rule-compliant, and transparent.
I plan to refuse blood pressure meds beginning Sunday, so I could conceivably be dead within 48 hours. Let's hope Sherlock Paulie SuperGenius stops the silly shenanigans while I'm still alive. [NOTE: Paul Schumacher has passed the buck to Assistant Attorney General Thomas Miller- who is also responding to the lawsuit.]
Fascists suck. Hungerstrikes suck.
Freedom or death.
This is anarchist prisoner Sean Swain from Ohio's supermax facility. If you're listening, you ARE the resistance…