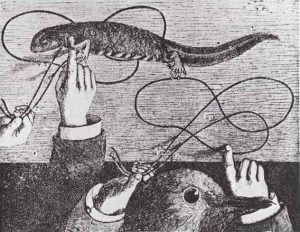 We are through the looking glass. Down the rabbit hole.
In 2012, prison fascists and the Federal Bozos of Intimidation decided that I was Monkey #4 of the Army of the 12 Monkeys. They didn't consult me. Didn't get my consent for turning me into a monkey. They just did it. And it was pretty painful.
Since then, prison fascists have repeatedly attributed "gang activity" to me, making it clear that I'll be Monkey #4 for the rest of my life. No matter what I do, they'll never let me out of this "gang." My every effort to extricate myself, prison fascists dragged me back into it, kicking and screaming.